SHP Online is part of the Informa Markets Division of Informa PLC
SHP Online is operated by a business or businesses owned by Informa PLC and all copyright resides with them. Informa PLC's registered office is 5 Howick Place, London SW1P 1WG. Registered in England and Wales. Number 8860726.
Daily health and safety news, job alerts and resources

Our 2023 Editorial Board represents an array of talents, verticals and knowledge but most importantly a group of enthusiastic, passionate professionals keen to share best practice with each other and conversely with our readers.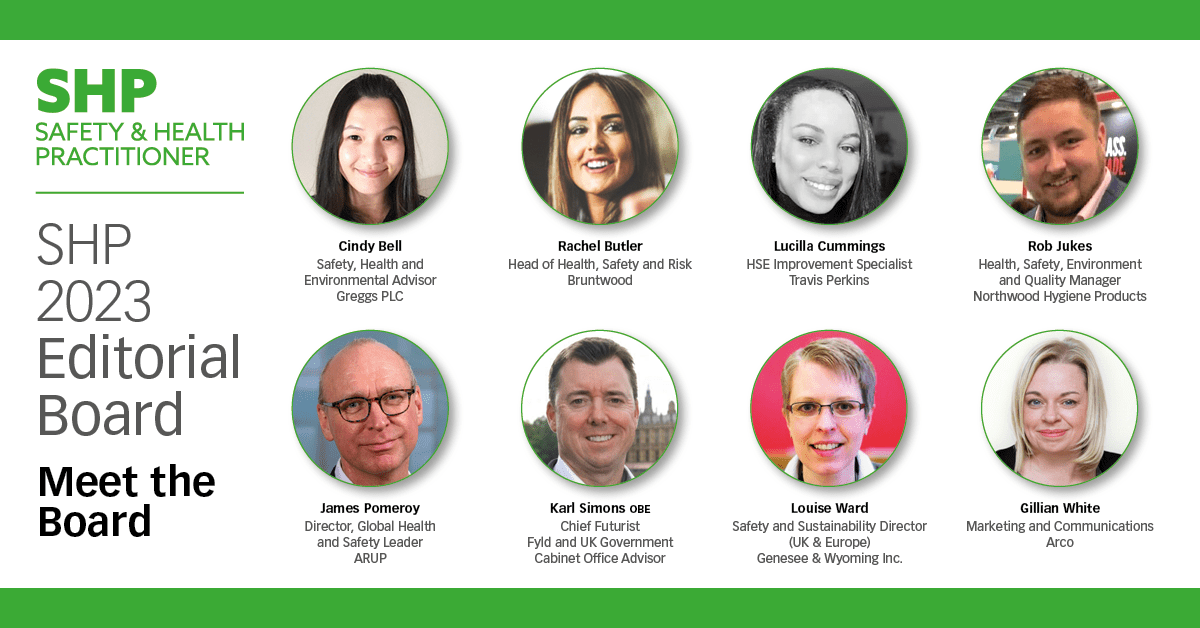 James Pomeroy, Global Health and Safety Lead, Arup 
James has been involved in leading safety and risk management programmes internationally for nearly 30 years. He is the Global Health and Safety Leader at Arup. He has worked in a variety of sectors including major infrastructure, heavy manufacturing, marine and aerospace. He has a particular interest in using technology to improve safety outcomes. He has degrees in sustainable business, international environmental law, and safety and risk management, and a PhD candidate at Cranfield University. James is a Fellow of IOSH and IEMA.
"Change is reshaping the world of safety at an ever-increasing pace," he told SHP on joining the Board. "The convergence of new technologies, changes in regulation, new ways of working, along with the emergence of different thinking in safety mean that keeping updated can be a real challenge. SHP is a great way to keep informed and updated about all these changes."
Cindy Bell, SHE Advisor, Greggs Plc. 
Cindy is the SHE Advisor for Greggs Plc in the north of England providing SHE advice and support for both the manufacturing and logistics functions. In 2021, she received the SHP Rising Star UK and Rising Star in Manufacturing Awards. "I was honoured to have received the Awards," Cindy says, "and I'm hoping to continue supporting the industry through the sharing of good practices and collaborative working with other likeminded Safety, Health, Environment and Risk professionals." 
Lucilla Cummings, HSE Improvement Specialist, Travis Perkins 
Lucilla started her health and safety career at Travis Perkins Group in late 2017 on the H&S Graduate Scheme. After rapidly progressing through the programme, she has undertaken roles within the Group including Safety Business Partner for Toolstation and most recently HSE Improvement Specialist for Travis Perkins. Lucilla graduated from Salford University with a Masters in Environmental Assessment and Management. Shortly after, she completed her NEBOSH National General Certificate and NEBOSH National Fire Safety and Risk Management. As part of her continual development, Lucilla completed her NVQ Level 6 in Occupational Health and Safety to support her aspiration to become CMIOSH. Lucilla is also a Graduate Member of IEMA and IOSH.
In 2020, Lucilla was awarded the SHP Rising Star UK Award, an accolade that affirms her goal to inspire the next generation of professionals. She said: "I'm really looking forward to working with SHP to help shape, influence and  inspire current and new upcoming safety professionals."
Rob Jukes, HSEQ Manager, Northwood Hygiene Products 
Rob Jukes is HSQE Manager at Northwood Tissue (Lancaster) Ltd and PhD student at Lancaster University and a highly motivated multi-global award-winning HSQE Leader with a track record of championing change, collaboration, and empowerment strategies within specialist manufacturing and high-risk business environments to drive improvement, increase performance and inspire leadership. Rob has worked closely with SHP in the past and he is excited for the opportunity in steeting its content. "I am really proud to join the SHP editorial board," he says. "This was the next step in my relationship with SHP and one that continues to bring out the best in me. I look forward to continuing the great work we have achieved together."
Rachel Butler, Head of Health, Safety and Risk, Bruntwood 
Rachel is a motivated individual, proven to inspire change and deliver improvement in the industry.  After throwing herself into developing skills, experience and gaining qualifications in Occupational Health and Safety, Rachel proudly became the youngest female ever to achieve CFIOSH membership in January 2022. 
Championing schemes such as Safety4Good and a proud NEBOSH Ambassador amongst other things; Rachel's intent is to positively influence H&S culture, through championing wellbeing schemes and engaging with other industries. "It's such an honour and a huge delight to be selected amongst this group of individuals," Rachel says, "whose true aim is to help shape our industry and celebrate the positive, diverse activity from across our varying disciplines.
Karl Simons, Chief Futurist at FYLD and UK Government Cabinet Office Advisor 
Karl is the Chief Futurist at FYLD and has over 30 years of employment experience, having worked internationally across all continents and in numerous safety critical industries including oil, gas, minerals, rail, roads, construction and utilities. He is an Electrical and Mechanical Engineer, with a background in HM Armed Forces and having served in multiple conflicts and holds a Post Graduate master's degree in environmental management, safety & health. He is a Chartered Member of IOSH, a member of the Institute of Directors and a member of the Society of Leadership Fellows at Windsor Castle. 
Karl's advice is regularly sought by Government on mental health in business and is appointed as Adviser to the Cabinet Office Geospatial Commission, is a lecturer at the University of Cambridge. He also holds a position as Non-Executive Director on the Board of the global organisation 'Water & Sanitation for the Urban Poor'. In 2020 he was awarded an OBE for Services to Mental Health Policy and in 2019 was voted 'The Most Influential Person in Health & Safety' by the 600,000 global readers of SHP.
"SHP has taken position as a premier global digital news feed for the Safety and Health community," Karl says, "Its ability to connect with the worldwide audience of practitioners and professionals keeping all abreast of the latest developments, including innovative technology being introduced, legislative changes affecting the profession, sharing learning and best practice and of course personal stories from those within the profession, is what makes this digitally creative magazine so successful."
Louise Ward, Safety and Sustainability Director (UK & Europe), Genesee & Wyoming Inc 
Louise Ward is an experienced HSEQ Leader with over 25 years experience. A Chartered Health and Safety Practitioner, her career has spanned a range of business sectors and high risk environments with companies including British Nuclear Fuels, News International. BP, JP MorganChase, the Engineering Employers Federation, the MoD, Network Rail, Thames Water, the British Safety Council, and Siemens. She is now Safety and Sustainability Director for G&W, overseeing operations across the UK and Europe.

"I'm a real advocate of Growth Mindset." Louise explains. "As safety professionals we go on learning and developing throughout our career, so it's essential that we have free access to high quality resources which will support our ongoing development. SHP has a long pedigree in this area, and I'm very much looking forward to working with them as they develop and enhance their platforms to address the objectives and learning styles of our increasingly diverse profession."
Gillian White, Marketing and Communications, Arco
Gillian has been at Arco for 13 years and is the Head of Marketing Communications, keeping Arco's customers up to date on safety legislation and standards, best practice in managing workplace hazards and risks and new innovations. Gillian also works on Arco's Public Affairs programme, lobbying key stakeholders on health and safety polices, and PPE.
"I'm keen to continue to work closely with SHP," Gillian says, "and to collaborate with the board to ensure that we are addressing the most relevant safety subjects, providing thought leadership and expert advice to help keep people safe at work."




Copyright © 2023. All rights reserved. Informa Markets, a trading division of Informa PLC.